August 9th, 2021
If you're engaging in business-to-government (B2G) transactions in Europe (or planning to), familiarity with Peppol is a must. It goes hand in hand with Directive 2014/55/EU on electronic invoicing (e-invoicing) in public procurement which made it mandatory for public contracting authorities to be able to receive and process e-invoices from April 18th, 2019.
The Directive also states that electronic invoices must be exchanged according to a common European standard. In other words, technical specifications must be aligned so that all back-end systems (ERP and/or accounting) can readily accept and process incoming e-invoices from suppliers.
That's where Peppol comes in—it ensures cross-border interoperability and is the preferred European e-invoice exchange framework. Today, the use of Peppol is often mandatory when sending B2G e-invoices, as determined by each country individually. And as e-invoicing obligations are now being extended to public authority suppliers in many European countries, use of the international network is growing. In fact, due to its popularity, e-invoicing via Peppol is making its way into the business-to-business (B2B) space as well. It's also being introduced in countries outside of Europe, for example, Australia, New Zealand, and Singapore.
Here's everything you need to know about Peppol, from what it is and why it began to how it's helping to create a safer document exchange environment in Europe and abroad.
Brief History & Overview
Peppol stands for Pan-European Public Procurement OnLine. Thanks, in part, to European funding, it was established in 2008 with the purpose of creating a common technical standard for electronic document exchange (e-procurement) for national and international trade in Europe.
It was mainly introduced to build a community centered around secure data exchange between trading partners while maintaining an open and competitive market, known as the Peppol network. Still today, all businesses may choose their own EDI or e-invoicing service provider given the provider serves as a Peppol Access Point that can connect them to the Peppol network (more on this later).
The Peppol network is governed by a non-profit organization called OpenPeppol. Simply put, this organization is responsible for the success and integrity of the Peppol network. OpenPeppol has four major ambitions, all of which lead to a Digital Single Market for B2G and B2B e-procurement in Europe for national and cross-border trade.
As for the technical specifications, Peppol is based on Universal Business Language (UBL) – ISO/IEC 19845. The Peppol Business Interoperability Specifications (BIS) define the formal requirements (implementation guidelines) and ensure that interoperability is supported across borders. Designated Peppol authorities are responsible for managing this at the country level.
Peppol Authorities
Since Peppol's success is highly dependent on the cooperation of countless public and private sector organizations, OpenPeppol delegates its tasks to national Peppol authorities by means of private law contracts. By appointing a designated Peppol authority in each country that has adopted its use, the safety, reliability, and interoperability of the international network is able to be preserved.
In addition to entering a contract with OpenPeppol, each authority is responsible for establishing Peppol Access Points within their country. Access Points are traditionally EDI and/or e-invoicing service providers that are capable of supporting Peppol specifications for electronic invoicing and likewise meet strict security standards. On occasion, ERP and accounting system providers may also apply.
The relevant Peppol authority must critically assess every service provider that wishes to serve as an Access Point. Those that pass the assessment are listed in the official registry of authorized service providers. These service providers may then offer their customers access to the Peppol network.
The Peppol eDelivery Network
As mentioned earlier, Peppol is the preferred (and often enforced) standard for B2G e-invoicing in Europe. Or, more precisely, the preferred set of specifications (Peppol BIS). As a result, the majority of public authorities in Europe utilize Peppol to receive and process electronic invoices.
In order to do this, each public authority must select a service provider that serves as an Access Point. From there, the public authority registers their business details with the help of their service provider. Once those details are verified, they are connected to the Peppol eDelivery Network, or Peppol network for short.  
As e-invoicing obligations rise (especially for B2G suppliers), more and more private companies are following the same process as outlined above and are similarly connecting to the Peppol network. The beauty of this international network is that once you're connected, you can exchange documents electronically with all other connected organizations—it's an open four-corner model. And since the network is growing, it also explains why the use of PEPPOL is becoming popular in the B2B space, too.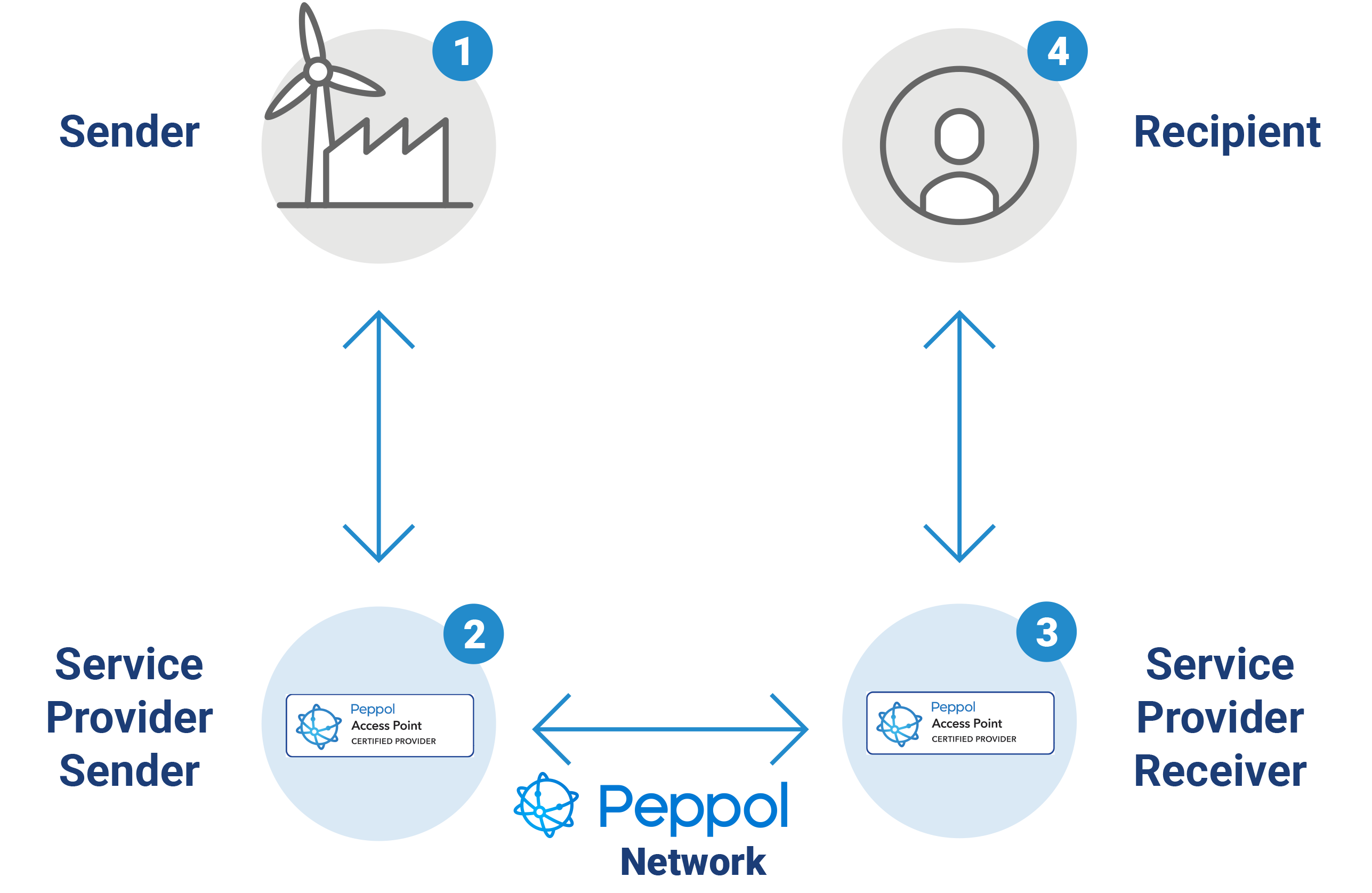 TIE Kinetix Is a Peppol Access Point
To provide a better explanation of how this all works in practice, here's an example:
The official Dutch Peppol authority is the Nederlandse Peppolautoriteit (NPa) (previously Simplerinvoicing). It is the NPa's job to preserve the safety, reliability, and interoperability of the network within the Netherlands. To properly execute this responsibility, the NPa must enter contracts with service providers in the Netherlands that wish to serve as Access Points. TIE Kinetix is one of these service providers and can, therefore, facilitate e-invoicing (and more) via the Peppol network even if you're located outside of the Netherlands.
Why Join the Peppol Network?
The Peppol network is an international community. Once connected, organizations can safely send e-invoices and other e-procurement documents (like purchase orders) to connected public and private sector institutions worldwide. And because of the rigorous verification process that all connected organizations must undergo before being accepted, sending business documents to trading partners via the network is a much safer alternative to other exchange protocols like email (SMTP).  
Additionally, the verification process makes it possible for each connected organization to receive a unique Peppol ID. This eliminates questionable sender identities, manual-entry errors, and more. And if you choose a service provider like TIE Kinetix, you'll have instant access to the entire international network. This will allow you to securely and reliably send business documents to anyone and everyone in the network and optimize your invoicing process.