August 25th, 2021
In our previous blog, What Is Peppol?, we described how OpenPeppol is the overarching organization that has the purpose of maintaining the security, reliability, and interoperability of the Peppol eDelivery Network. However, the success of the network is highly dependent on all parties involved—national Peppol authorities, Access Points (APs), and end users.
Naturally, OpenPeppol has created a long list of rules and compliance criteria to keep things running smootly—a 20-page document, to be exact. And although the Peppol Compliancy Policy is primarily aimed at national Peppol authorities and service providers like TIE Kinetix that serve as official APs, the document contains useful information for end users, too.
To save you some time, we've filtered out the information that's important for you to be aware of as either the sender (corner 1) and/or recipient (corner 4) of electronic document exchange via the Peppol network. That being said, here's everything you should be aware of when it comes to ensuring that your business practices (and those of your service provider) are in line with Peppol requirements.   
Peppol APs Must Include Certain Information in Customer SLAs
The Peppol eDelivery Network is built on the 4-corner model (see figure below).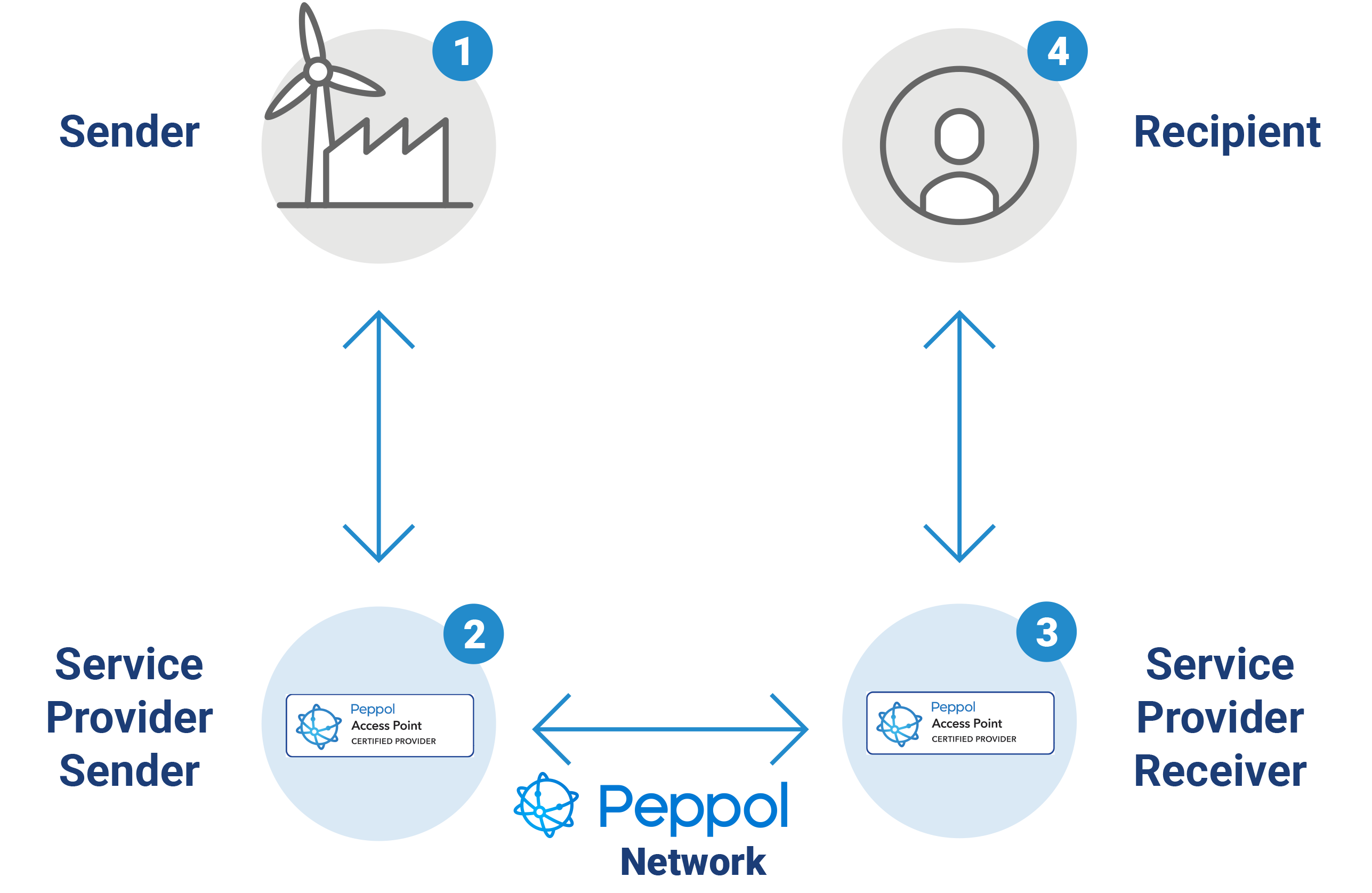 The sender (corner 1) and receiver (corner 4) are free to choose their preferred service providers individually. Roaming agreements or fees between corner 2 and corner 3 are not allowed.
Service providers that act as Peppol APs must outline and define the minimum requirements of OpenPeppol in their individual service-level agreements (SLA) with customers.
Only Technically Correct Documents May Be Exchanged
Senders are responsible for the technical correctness of submitted documents. Hence, it is important that all of your Peppol documents are validated prior to sending. Make sure to choose a service provider with a solution that is capable of automatically validating your outgoing documents.
In the chance that an invoice has been validated and is still incorrect, the recipient's service provider will reject it. When this happens, the sender will receive an electronic Message Level Response. Therefore, as a sender, it is important to ensure that you (meaning, your APs' solution) can receive and process this message type.
Recipients Are Required to Support Peppol BIS
The Peppol Business Interoperability Specifications (BIS) standardize the requirements for sending, receiving, and storing electronic documents. Other document types and adaptations may be defined if this is done according to the Peppol registration procedures.
Peppol BIS Billing 3.0 is the latest version of the Peppol standard. It is based on the European standard EN 16931 and is in Universal Business Language (UBL) format.
You May Not Submit Scanned PDFs as Invoices
A scanned PDF is actually a type of image (e.g., .jpg), and it is not possible for e-invoicing software to accurately pick up on the data—it's too hard to read. However, if you generate native PDFs (those that are automatically generated by your accounting system or ERP), then you can utilize a solution like PDF-2-FLOW. With this type of solution, a PDF invoice can be transformed into an electronic format that complies with Peppol requirements.
Invoice Exchanges via Email May Be Rejected
The Dutch Peppol Authority, for example, rejects all invoices sent via email in order to avoid potential security issues. Instead, all exchanges must go through a secure network. Read more on why sending invoices via email makes you vulnerable to supply chain attacks here.  
Prevent Unwanted Invoices via Peppol
Once you gain access to the Peppol network by means of your Peppol AP, you can exchange documents with any other party that has access to the network, regardless of what country they are in. This is great—you can do business all over the world through a single network. But, you should be aware that you are required to process every technically correct and valid invoice that comes your way.
In other words, in the off chance that you receive an unsolicited invoice, you can't refuse to pay it if it is technically correct in terms of structure. Therefore, it's wise to ensure that you are not connected to the Peppol network with your Chamber of Commerce, VAT, or OIN number—especially if this information is public. To avoid this, you can connect to the network with alternative identification. You can view the guidelines for using Peppol Identifiers here.
Don't Choose a Service Provider, Choose a Partner
While on the road to e-invoicing and e-procurement, you will always run into rules and criteria like the those outlined above. Therefore, when choosing a service provider, make sure that they can support your requirements now and in the future. It's increasingly crucial to remain flexible in changing circumstances.
In addition to acting as a Peppol AP, it's important that your service provider is able to offer vast integration capabilities and is likewise able to support any-to-any data translation. That's because e-invoicing and e-procurement are the future, and electronic document exchange will eventually become the norm.