The FLOW Connector for Oracle Fusion Cloud SCM now extends TIE Kinetix's cloud-based solution, EDI-2-FLOW, where Oracle users have the opportunity to benefit from a fully integrated solution via a standard connector. Now, Oracle Cloud SCM users can expand their reach and meet e-invoicing compliance requirements directly from their ERP, while also utilizing 100% digitalization. 
Collaboration Messaging Framework (CMK) Rollout 
TIE Kinetix is proud to be part of the upcoming Rollout in the Collaboration Messaging Framework (CMK) as an Oracle Cloud SCM partner. This means that we are integrated directly within the Oracle SCM ERP, with little needed from the end-user side. TIE Kinetix, the globally-selected PEPPOL Access Point, will enable the secure and accurate exchange of documents between Oracle users and their trading partner networks.  
As part of the CMK Rollout, TIE Kinetix is pre-integrated with the Oracle Business Network and acts as a third-party B2B service provider. This solution is part of the SCM Common Component, and may be combined with Oracle Integration (OIC) for end-to-end EDI.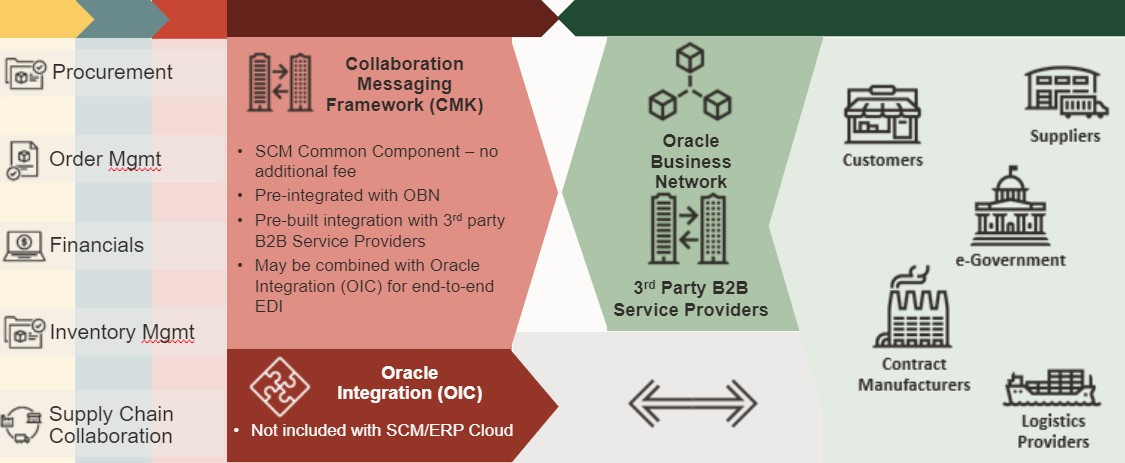 Benefits  
First-Ever Offering 
TIE Kinetix is currently the first Oracle partner worldwide that offers this capability. When it comes to EDI and e-invoicing, we know how important it is to stay ahead of the curve with competitors, and this cutting-edge development in implementation is certainly a step in the right direction.  
PEPPOL Access 
With the extended offering, Oracle SCM users can exchange invoices (both inbound and outbound) via the PEPPOL network, a global network that enables users to exchange business documents with all other users in the network with a single connection. This streamlines efficiency and ensures minimal errors in processing. Don't forget, TIE Kinetix is already an established member of OpenPEPPOL and is a Certified Peppol Access Point. 

As a buyer, it's simple to connect to the PEPPOL network is an easy way to boost digitalization efforts. It offers a quick and inexpensive way for suppliers to meet any and all requirements.  
Multi-Document Capabilities 
It's not just invoices! Oracle Cloud SCM users can also exchange PEPPOL invoice response messages and credit notes, according to the PEPPOL BIS standard, directly from their Oracle ERP. Plus, the ease of opting into this next-generation EDI solution proves the ease of digitalization within the supply chain.  
Security 
TIE Kinetix is ISO 27001, 27017, and 20718 certified, and last year, we passed our SOC 2 audit (and subsequently received the SOC 3 report). These certifications ensure that TIE Kinetix is prioritizing customer security above all else and will continue to do so in the coming years.  
Ease of Implementation 
There's no need to outsource consultancy work or deal with complex processes for integration, which means that Oracle SCM users can take a step back and let our team of experts handle the process. Minimal information is required to get set up, after which they can easily get started sending and receiving messages over the network.  
Our participation in the Oracle Cloud Marketplace extends our commitment to the Oracle community and enables customers to easily reap the benefits of our FLOW Connector to Oracle Cloud SCM. Want to learn more? Check out our Oracle partner page, and feel free to contact us for more information.