Why Clopay chose TIE Kinetix for EDI Outsourcing
Industrial door leader Clopay needed a more efficient way of managing their EDI applications. They found the day-to-day operation of an in-house EDI program intensive and expensive. Maintaining updated trading partner EDI versions, training and retaining qualified technical resources, and purchasing EDI software costly and unmanageable.
Recognizing these needs, Clopay decided to fully outsource their EDI processes to an experienced partner like TIE Kinetix. Clopay also cited TIE Kinetix reasonable price, well known reliability, support and confirmation from several satisfied customers as determining factors that made the purchasing decision much easier.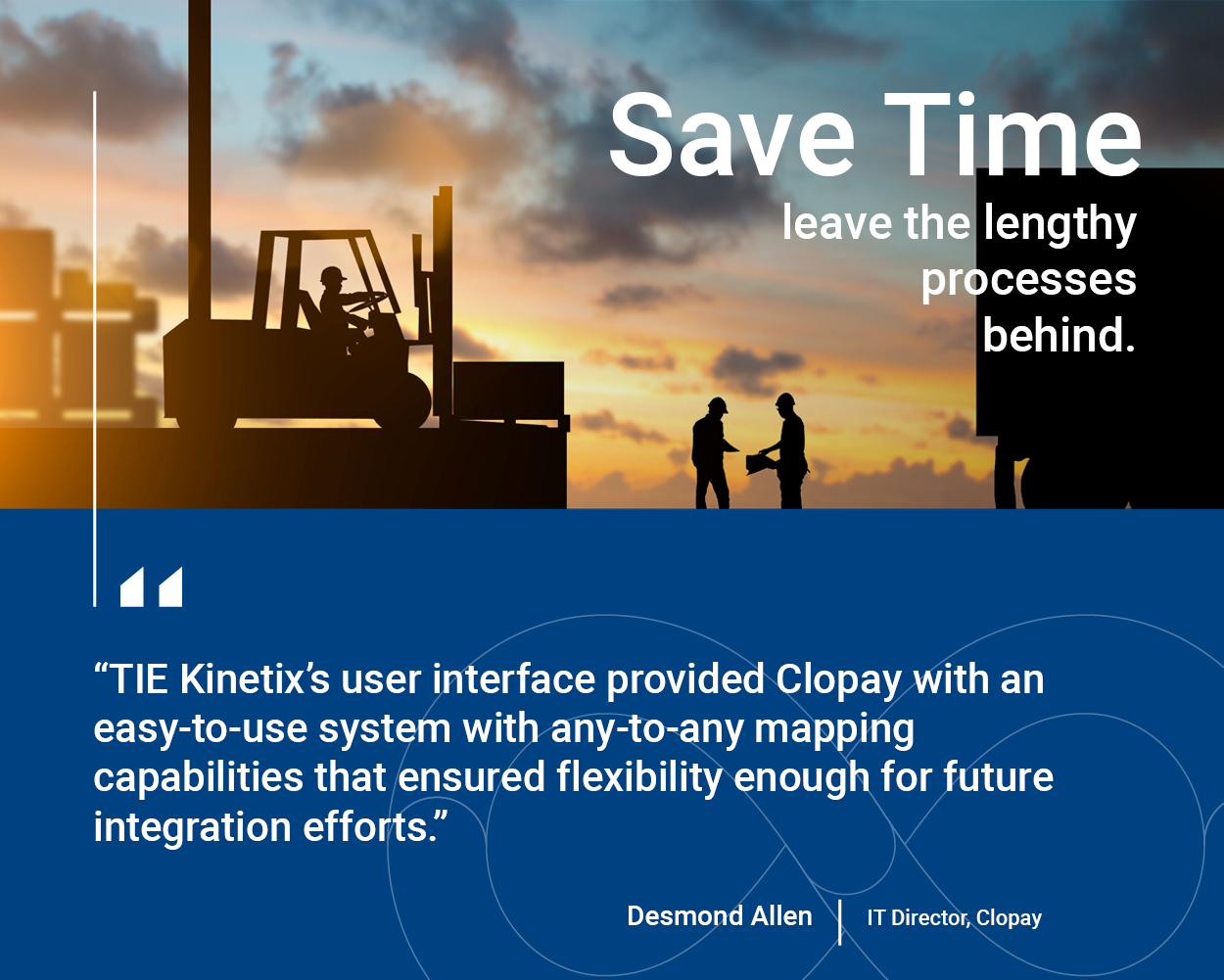 Solution
"TIE Kinetix worked very closely with the technical and business teams of Clopay to provide a SAS 70 compliant Outsourced solution utilizing Data center infrastructure provided by SUNGUARD Availability Services®. This solution not only supported the integration of the company's internal business processes, but more importantly enabled direct connections between the business processes of Clopay and its trading partners.
TIE Kinetix' user interface provided Clopay with an easy-to-use system with any-to-any mapping capabilities that ensured flexibility enough for future integration efforts. Using this powerful combination gives Clopay the flexibility to rapidly implement new e-commerce processes with their Oracle Applications Suite to increase visibility, efficiency and response to market conditions.
Clopay needed the implementation to be seamless to their trading partners and worked with TIE Kinetix on a detailed project plan with specific expectations from both parties. Clopay worked with TIE Kinetix to set up a reconciliation process to ensure the accuracy of all inbound and outbound transactions. In a very short timeframe, Clopay had outsourced all its EDI translation, mapping development and enhancements, new trading partner set ups, daily reconciliation, error troubleshooting and communications to TIE Kinetix.
Results
As a result of outsourcing its EDI to TIE Kinetix; Clopay has been able to focus on improving and optimizing its internal business applications and has experienced an annual cost savings of over $80,000 in the first year of service. TIE Kinetix powerful translation capabilities have enabled Clopay to effortlessly transact business and manage more than 17,000 transactions per month without error.
The overall costs for data storage and software execution have been significantly reduced, and the time dedicated to both new trading partner set up and integration formats have been reduced by 75%. In addition Clopay has "been able to keep the headcount down in our department and while still maintaining system integrity to support our business and meet our trading partner requirements."