New customers drive 14% SaaS revenue growth
Breukelen, the Netherlands – November 17, 2021 at 8 AM CET – TIE Kinetix, the leader in 100% supply chain digitalization, announced its full year financial results for FY 2021 today. New customers have driven 14% growth in SaaS revenue.
Table 1: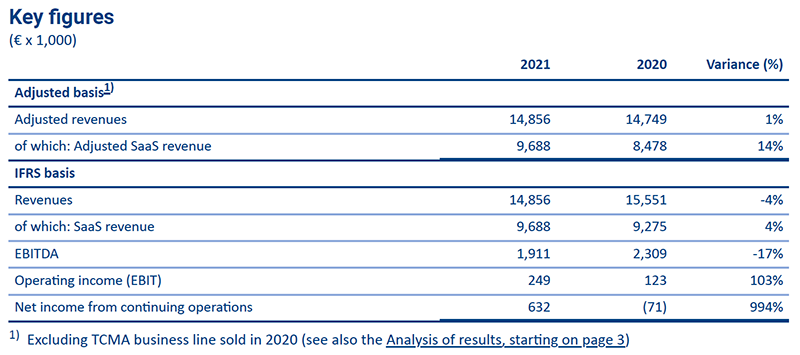 Financial highlights 2021
Organic adjusted SaaS revenue growth from € 8,478k (2020) to € 9,688k (increase of 14%) when excluding the TCMA business that was disposed in 2020 (but is included in the IFRS comparative figures of continuing operations);
Organic SaaS revenue growth from € 9,275k (2020) to € 9,688k (increase of 4%) measured on an IFRS basis;
Total IFRS revenues decreased from € 15,551k (2020) to € 14,856k (decrease of 4%) due to the divestment of TCMA;
Adjusted for this, revenue has increased, moving from € 14,749k (2020) to € 14,856k (increase of 1%);
Net income from continuing operations increased from € (71k) (2020) to € 632k (increase of 994%);
EBITDA and net income positively impacted by corona-related U.S. government grant of € 455k;
Positive operating cash flows from continuing operations of € 2,114k (2020: € 2,700k);
Basic earnings per share increased from € (0.04) (2020) to € 0.38 (increase of 980%).
Message from Jan Sundelin, CEO
The most profound business challenges are digitization and sustainability. Through our FLOW platform we are enabling customers to achieve both goals at the same time. FLOW supports environmentally sustainable practices in several ways. First, automated document exchange reduces errors during the ordering process and drives improved order accuracy. Furthermore, our 100% digitization proposition promotes the reduction of paper: invoices, PO's, order confirmations etcetera all require not only the use of administrative resources but also consume large quantities of paper, if not automated. Our FLOW platform automatically reduces the use of paper during business processes, contributing to our customers' environmental goals.
In 2021, we continued on our mission to develop and deploy solutions to fully digitize the supply chain through the modules in our FLOW platform. We have strengthened our operations in various areas of our business by attracting new talent and will continue to do so, to provide a solid foundation for further growth. This growth is already becoming visible in the business-to- business market in all our markets and in the business-to- government markets in the Netherlands and Germany. We are welcoming a growing number of large new customers for our supply chain digitization solutions, exceeding prior year's numbers. The effects of our strategy are starting to show in our SaaS-revenues, which have increased in 2021 by 14%. In addition, efficient operations and cost reductions resulted in an EBITDA above plan, at € 1,911k.
In 2021 we have entered into new partnerships and we have renewed our strategy for onboarding trading partners to the FLOW platform. Through new tools and with the help of artificial intelligence, we are able to onboard trading partners in faster, in more efficient and in a cost-effective way. For 2022 we plan to continue investing in the development of our solutions, strengthening our organization and servicing our customers better, for example through the introduction of customer success teams. With these efforts, we will continue on our road to success.
 
You can download the full report here: TIE Kinetix Reports Full Year 2021 Performance