About Community Summit
Community Summit North America is the largest independent gathering of Dynamics users in the world. The product tracks include Dynamics 365 F&O (AX), CE (CRM), Business Central (NAV), Dynamics GP, Dynamics SL and Power Platform and the content will focus on people considering Dynamics, new to Dynamics, migration to Dynamics and optimizing Dynamics.
The event is the most comprehensive training and education event on Microsoft business applications for finance & accounting, IT, operations and systems administrators with 4,000+ attendees in 2023 from finance, accounting, IT, systems & business administration roles across multiple industries at all size companies.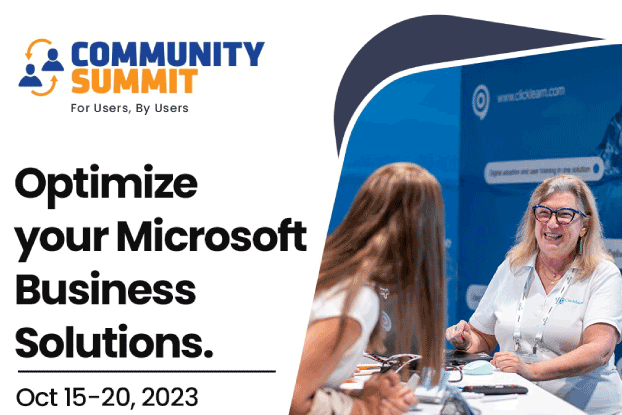 End-to-End EDI Integration in D365 Finance & SCM
Looking to exchange documents electronically directly from your Microsoft Dynamics 365 environment? With our fully integrated and cloud-based solution, EDI-2-FLOW for Dynamics 365, you can.
EDI-2-FLOW for Dynamics 365 is a scalable, affordable solution that offers a true end-to-end experience for D365 Business Central and D365 Finance & Supply Chain Management users. You'll be perfectly situated for growth. Not only with the solution itself but with TIE Kinetix's and SPS Commerce's extensive global network—you'll have instant access to new trading partners around the world.
About SPS Commerce (formerly TIE Kinetix)
We help companies of all sizes achieve their digitalization goals. From 1% to 100% or anywhere in between, our cloud-native FLOW Partner Automation platform is designed to completely eliminate paper from the supply chain, enabling our customers to focus on three corporate initiatives that drive true organizational change: business process efficiency, compliance, and corporate social responsibility (CSR). 
We believe that digitalization (not digitization) is the future. We support data-driven partnerships with innovative cloud technology, customer-obsessed service and accessible experts so our customers can focus on what they do best. More than 115,000 companies have chosen SPS Commerce to support their EDI, e-invoicing, and supply chain digitalization projects.
Founded in 2001, SPS has achieved 90 consecutive quarters of revenue growth and is headquartered in Minneapolis.